Advanced Network Consulting offers infrastructure design services for both local-area networks (LANs) and wide-area networks (WANs). Whether the project is a new network, an upgrade or expanding an existing network, our network engineers will develop solutions with minimal interruption to your business operation.
Network design includes:

Business needs analysis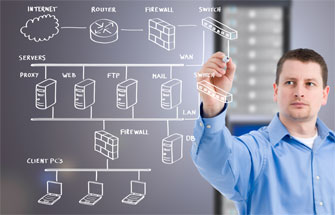 Meeting current business needs


Network structure and organization


Adapting as network demand increases


Hardware that constitutes the network


Network security policies


Network structure and organization


Compliance with standards


Traffic shaping and tuning


Monitoring network performance


Manageability


Upgrade-ability
The goal is to design a network that is cost-effective, easy to manage, and has the flexibility to adapt as the business and technical requirements of your organization grow and change. The design must account for your requirements including availability, resilience, affordability, security, scalability, and manageability.
From wiring to LAN switching, through Internet connectivity to the most complex protocol configurations and large-scale enterprise networks, Advanced Network Consulting has the experience necessary to design the voice and data network solution your business requires.
Southern California service areas include: Los Angeles County, South Bay, Orange County, San Gabriel Valley, Pomona Valley, and North San Diego County.
We offer a complimentary one hour onsite assessment for new and prospective clients.
We look forward in assisting with your company expansion and network design.