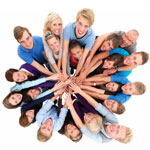 We understand the needs of all businesses, but Non Profits in particular, have many more budgetary constraints.  Monies earmarked for specific items and programs, services with specifications sometimes dictated by the government, all the while having to justify the costs associated with running said programs and services, and usually not having the technological resources to implement them.
Advanced Network Consulting is here to help.  We have been providing IT solutions to Southern California nonprofits for nearly 15 years.  With so many nonprofits focusing on much needed programs, services, and overall community essentials, it's overwhelming to think about the technological necessities vital to keeping your doors open.  We're here to help integrate technology into your nonprofit and use technology to help further your cause, programs, and services
Our technicians are friendly, approachable, and personable.  They are discreet and professional.  Our technicians are personable, approachable, and knowledgeable; their ability to communicate in terms easy to understand makes clients feel at ease. They are book smart, classroom trained, and have working experience with various Nonprofits. There will always be lower priced competitors, but with Advanced Network Consulting, we serve as your business partner, providing IT solutions customized for nonprofit.  We are always mindful of your budget constraints, program specifications, and overall goals. Our qualified professionals will design and implement viable solutions for nonprofit, and we will always be in communication with you to ensure needs are met within your budget.
Our technician certifications include:
CCNA Cisco Certified
Microsoft Certified Systems Administrator
Microsoft Certified Technology Specialist
We offer a complimentary evaluation for new and prospective clients.  Our meeting would include an on-site inspection, meeting with your company officers, technology evaluation, growth projection, and technology plan recommendations.  In addition, we offer discounted rates on monthly support plans, a substantial savings for Nonprofits.
We look forward to providing your Nonprofit with excellent service and cost-saving technology solutions.