When using Outlook 2010 with an Exchange server or hosted Exchange service such as MessageDisk you can recall an email that was sent in error or that you forgot to include an attachment to.
Using this feature is simple, just preform the following steps:
Go to your Sent Items folder and open the message with want to recall
Click File and go to the Info Tab
Select the Message Resend and Recall option
Select recall this message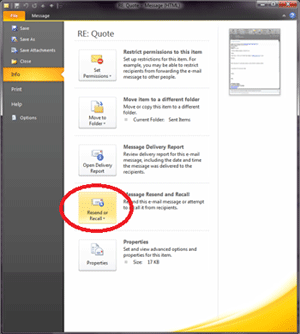 You will be prompted regarding, what to do while performing the recall.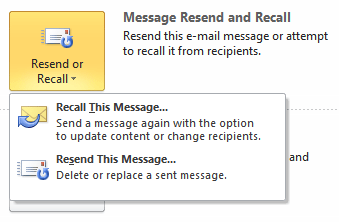 You can either delete unread copies of the message or Delete unread copies and replace with a new message. Also make sure that the Tell me if recall succeeds or fails for each recipient option is checked, if you wish to be informed, if not then just uncheck this checkbox.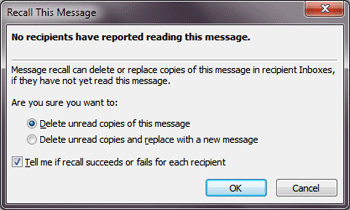 So what does Recall option actually do? You can use it to delete the copy of your email from the recipients inbox or use it to delete a copy and replace it with a new message. The first option can be used if you send an email to a recipient by mistake, while the second option can be used if you forgot to include an attachment or any additional information.
Please note that it can only delete/replace emails that are unread, if the recipient have read the email then Outlook 2010 cannot delete/replace the email. Also note that this option will work in corporate environment only, if you send an email to Hotmail, GMail, Yahoo, etc address then this option will not work.
About Advanced Network Consulting:
For businesses in Los Angeles and Orange County in need of  network support, remember that Advanced Network Consulting offers same day service, scheduled maintenance appointments, and emergency calls.
As an Advanced Network Consulting client, your company's network security and reliability is our top priority.  ANC performs routine maintenance, software updates, hardware installation and upgrades as well as system upgrades as part of your network security.
Advanced Network Consulting has been servicing clients throughout Southern California for nearly 20 years.  We've seen every form of viruses and Spyware out there and our techs are constantly educating themselves on the latest threats and tactics.  The Advanced Network Consulting office, strategically located in La Mirada to serve Southeast LA County and North Orange County allows ANC to providesame day appointments, scheduled maintenance and remote access appointments, phone support, and emergency calls are available 7 days a week.
For a complimentary one hour evaluation, one of our techs will meet at your office to assess your security and network needs.