Here is a tip for getting the best looking text on your laptop computer or Desktop computer with a LCD screen:
ClearType is a software technology that was developed by Microsoft that is designed to improve the readability of text all LCD screen. ClearType adjusts the way that font rendering is send to the LCD monitor, making it look almost as sharp as text printed on a piece or paper.
ClearType Text Tuning tool:
Click Start menu and type "cttune"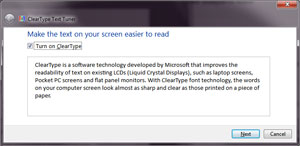 The ClearType Text Tuning wizard will step you through a series of screens that guide you through tweaking your ClearType display settings so that they are optimal for displaying on your specific LCD display and your vision.
Does your Los Angeles County business need affordable, reliable technology solutions with technicians who can communicate in a friendly, effective manner?
Welcome to Advanced Network Consulting, Southern California's premier source for on-site network and server support for all cites in Los Angeles County.  Below is a partial list of cities in LA County is currently helping business in.  With nearly 20 years of experience in providing IT services for small and medium size businesses, we specialize in audiology, intermodal trucking, medical and dental offices, and non-profits just to name a few.
Specializing in Microsoft based solutions, we offer years of expertise in Windows Servers, Exchange, SQL Server as well as a deep knowledge or general networking. Advanced Network Consulting is your one stop computer consulting solution provider.  From network cabling and office relocation, server, desktop and laptop installations to staff training, troubleshooting, upgrades and everything in between, Advanced Network Consulting can provide the solution your business is looking for.