Over the last few months we have had several clients ask us to change this setting,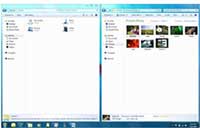 so we are posting it to our blog so others can benefit as well.
Microsoft included the automatic action Aero Snap for laptop and desktop computers with windows 7 to make things easier for users. Automatic actions that are meant to be helpful can actually turn out to be frustrating if they aren't doing what you are really trying to do.
If you want to disable Aero Snap—the feature that automatically snaps windows to a certain size and position when you drag their title bars on the desktop, follow these steps:
1.            Click the Start button to open the Start menu.
2.            Type mouse in the Search Files and Programs box.
3.            Select Change How Your Mouse Works from the list of items that are found.
4.            Select the checkbox for the option Prevent Windows from Being Automatically Arranged When Moved To The Edge Of The Screen.
If should be noted that this will also disable the Aero Shake feature, which lets you shake a window to minimize all other windows that are open.
Specializing in Microsoft based solutions, Advanced Network Consulting offers Southern California businesses nearly 20 years of expertise in Windows Servers, Exchange, SQL Server as well as a deep knowledge or general networking. From network cabling and office relocation, server, desktop computer and laptop computer installations to staff training, troubleshooting, upgrades and everything in between, Advanced Network Consulting can provide the technology solution your business is seeking.
Let Advanced Network Consulting customize a technology plan for your company.  We consider ourselves a strategic partner in the growth of your company.  Just call or email to schedule your complimentary one hour assessment. We look forward to providing your company affordable, customized technology solutions.