Microsoft has made changes to their Cloud based File sharing service that is a perfect example of why, we at Advanced Network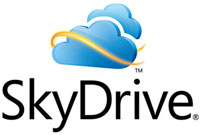 Consulting have not jumped on the "Cloud" bandwagon.
First the good news:
Microsoft released a new version of Skydrive. This new version finally offers desktop integration to the service. Before today Skydrive users have to upload and download their files via a web browser. Now Skydrive users can interact directly with Skydrive from their desktop computer or laptop computer.
Additionally Microsoft is pushing out several  sharing and management enhancements for mobile apps for both Andriod and iOS. This is done with an application that resides on the task bar on a Microsoft Windows based computer or the system tray on a OS X Mac.
And now for the bad news:
Existing users of Skydrive were given 25GB of space on Skydrive when they signed up. As of today, every user is now limited to 7GB of space, almost a quarter of the space that was offered before. Even worse, existing users are also having the space lowered to the 7GB cap. For a limited time Microsoft is offering to upgrade you back to the 25GB for free; no details were given only that this is a limited time offer and must be done manually.
This is yet another example of one of the many pitfalls to using cloud based offerings. The Provider can, at any time, decide to add features and they also have the ability to limit or remove features entirely.
While this may be inconvenient for home and personal use, in a business environment allowing a third party to control how you use their products and controlling how you interact with them can be a disaster.
Several years ago before "The Cloud" was the latest buzz word one of the premier providers of software that Real Estate agents used to manage their day to day work flow decided to provide their service on-line rather than as a program that was installed locally. Initially several of our Real Estate clients were happy about the change and went through the process of exporting their data and uploading it to the on-line service. Over time as the provider added and removed features many of them became dis-satisfied with the service and ultimately, had to inure out of pocket expenses to get their data back so they could return to the stand-alone product.
Wondering what are your business alternatives to The Cloud?  With almost 20 years' experience in the computer industry, Advanced Network Consulting has serviced just about every industry in Southern California.  Our Microsoft Certified and Cisco Certified technicians perform troubleshoot tasks for desktop computers, manage networks, and execute server installs and upgrades.   Let Advanced Network Consulting customize a technology plan for your company.  Just call or email to schedule your complimentary one hour assessment. We look forward to providing your company affordable, customized technology solutions.