Microsoft released new version 4.0 of Security Essentials. Building on the previous version Microsoft has added several new features:
A new service called Microsoft Active Protection Services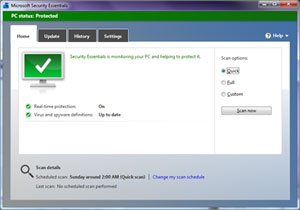 A new streamlined interface
Overall better virus/malware detection
A new automatic remediation function
Microsoft Security Essentials is a free download from Microsoft. Microsoft Security Essentials is available for users with computers running Windows XP,  Windows Vista, and Windows 7. The license is for home use and businesses with 10 or less computers. Security Essentials is simple to install, easy to use, and always kept up-to-date so you can be assured your PC is protected by the latest technology.
Microsoft Security Essentials relatively light when it comes to system resources,  runs quietly and efficiently in the background so do not experience  interruptions or long computer wait times.
Link for computers running 64 bit versions of Windows XP, Windows Vista and Windows 7
Link for computers running 32 bit versions of Windows XP, Windows Vista and Windows 7
If your computers are already running Microsoft Security Essentials 3.0 we recommend you upgrade as soon as you can to version 4.0
If your computers and environment meet the licensing requirements for Microsoft Security Essentials we recommend you install Microsoft Security Essentials 4.0 on your desktop computers and laptop computers.
About Advanced Network Consulting:
Advanced Network Consulting is a Southern California based  IT consulting company focused on the Small business market. For businesses in Southern California or a business that has an office in LA or Orange County, Advanced Network Consulting offers on-site and remote network and server support.
If your business needs assistance, feel free to give us a call.
Advanced Network Consulting offers a ONE HOUR FREE network evaluation for new clients.
Specializing in Microsoft based solutions, we offer years of expertise in Windows Servers, Exchange, SQL Server as well as a deep knowledge or general networking. Advanced Network Consulting is your one stop computer consulting solution provider.  From network cabling and office relocation, server, desktop computer and laptop computer  installations to staff training, troubleshooting, upgrades and everything in between, Advanced Network Consulting can provide the solution your business is looking for.