Over time you may notice that Outlook is not as responsive as it used to be.
In previous posts we have talked about:
Organizing  Outlook with custom folders
Determining  the size of your Outlook data file and folders
Deleting data and reducing your Outlook data file
Today's tip is checking for misbehaving Add-ins. Add-ins are separate programs that hook into Outlook to provide additional functionality. Often there will be Add-ins installed and activated that you did not know were installed (commonly added as part of some program that you installed) or there are Add-ins that you no longer need.
Many times issues with Microsoft Outlook are caused by poorly written add-ins. Check Outlook for currently enabled Add-ins. Add-ins can cause Outlook, not to open, freeze or cause 'not-responding' issues.

You can open Outlook and check for Add-ins to  disable
File > Options > Add-ins.  There you'll find COM Add-ins select that option and uncheck all non-Microsoft add-ins.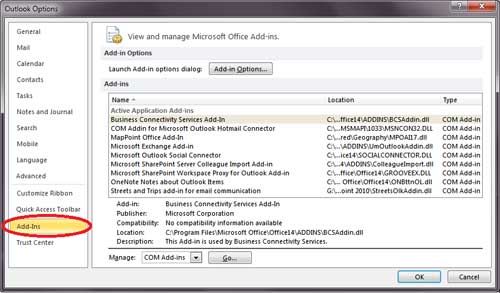 Close and re-open Outlook.
To get the most complete Microsoft Outlook experience Advance Network Consulting recommends having either an In-house Exchange server or using Hosted Exchange with Messagedisk.
About Advanced Network Consulting:
For businesses focused in Southern California, Advanced Network Consulting offers on-site and remote network and server support. If your business needs assistance, feel free to give us a call. ONE HOUR FREE network evaluation is offered for new clients.
Advanced Network Consulting has been providing Information Technology consulting solutions for Southern California business for almost 20 years. Specializing in Microsoft based solutions, we offer years of expertise in Windows Servers, Exchange, SQL Server as well as a deep knowledge or general networking. Advanced Network Consulting is your one stop computer consulting solution provider. From network cabling and office relocation's, server, desktop and laptop installations to staff training, troubleshooting, upgrades and everything in between, Advanced Network Consulting can provide the solution your business is looking for.